Geotextile sheet is also called short staple non woven geotextile which is made of polyester or polypropylene staple fiber through different equipment and techniques. It is meshed and then processed by acupuncture and other processes to achieve different thicknesses to meet the project requirements. The main function of needle punched geotextile sheet is anti-filtering, water filtration, reinforcement, superior water permeability, filterability, durability, deformation adaptability and good surface drainage, etc.
The short staple needle punched geotextile produced by BPM complies with the GB/17638-2017 standard which is manufactured by our own factory and sold at competitive factory prices. The width of the short stapled geotextile produced is from 1m to 6m, and the staple weight of the needle punched geotextile sheet is 100-800g/m2.  Our geotextile products include Filament Non Woven Geotextile, Short Fiber Needled Punched Geotextile, PP Woven Geotextile Fabric and Pet Woven Geotextile, etc. They are widely used in railway tunnels, road tunnels, embankments, airports, various water treatment projects, etc. It is used to strengthen weak foundations, reverse filtration and water filtration.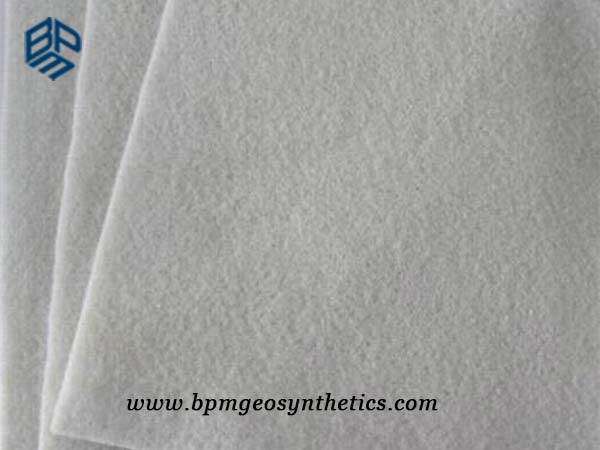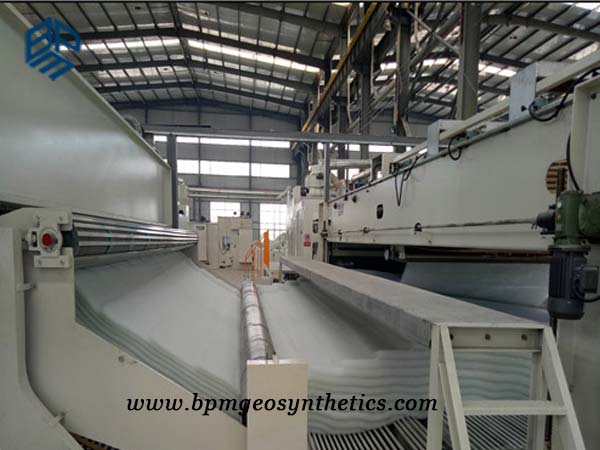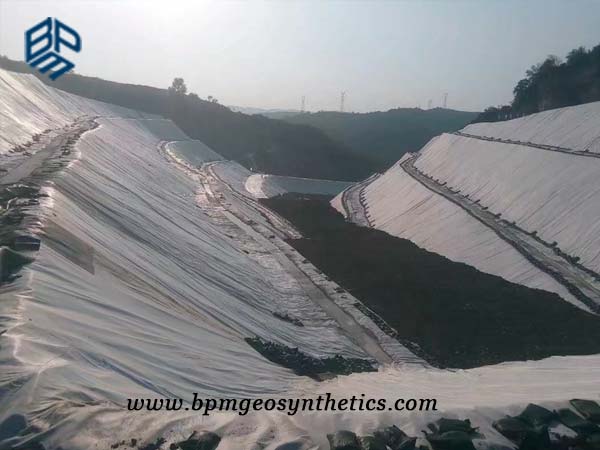 The plane drainage capacity of the short staple needle geotextile sheet was taken into account during the engineering design of the China Railway Weinan Railway Tunnel project. The 350g/m2 short fiber needled geotextile sheet was used to isolate the vault concrete between the tunnel and the waterproof layer for protection and drainage. China Railway Group's Weinan Railway Tunnel project was open for bidding in January 2017. BPM was selected as the first candidate for winning the bid after many rounds of bids and expert evaluations, etc. After being publicly announced, it was selected as a qualified supplier for this project. Delivery time is from February 2017 to the end of August 2018.
Specifications of needle punched geotextile Sheet for Railway Tunnel project
Short fiber needle punched geotextile sheet – 350g/m

2

Specifications – 6*100m/piece

Quantity – 450,000 square meters.

Delivery period -19 months
About BPM
BPM had provided many types of effective and states of the art geomembranes, geotextile and other geosynthetics to over 36 countries. Our main customers are from Australia, France, Sweden, UK, Hong Kong, Hungary, New Zealand, Poland, Mexico, Ecuador, Brazil, Pakistan, Bangladesh, Thailand, Vietnam, Malaysia, Indonesia, Singapore, Philippines, Sri Lanka, India, UAE, Saudi Arabia, Qatar, Kenya, Ghana, Ethiopia, Somalia, Nigeria, South Africa, Swaziland, Mongolia etc.
BPM is also providing professional design and installation service. OEM and ODM are also available. If you have any questions or inquiries,  please fill and submit the following form, we will reply as soon as possible.