Geotextile fabric is often made from polypropylene or polyester fibers processed by woven, needle-punched or heat-bonded methods. short fiber needle punched geotextile fabric is made from 100% virgin staple polypropylene fibers that are tangled and interlocked with each other by needle-punching process.  It is the kind of non woven geotextile fabric which is robust, durable, permeable and resist to deformation. BPM short fiber nonwoven geotextile fabric is widely used to increase ground support and soil stabilization in a given location, it has the characteristics of high tensile strength, high elongation rate, excellent UV stabilization, excellent filtration and good abrasion resistance, etc. It is widely used for filtration, separation, protection, drainage applications in civil environmental engineering and construction projects.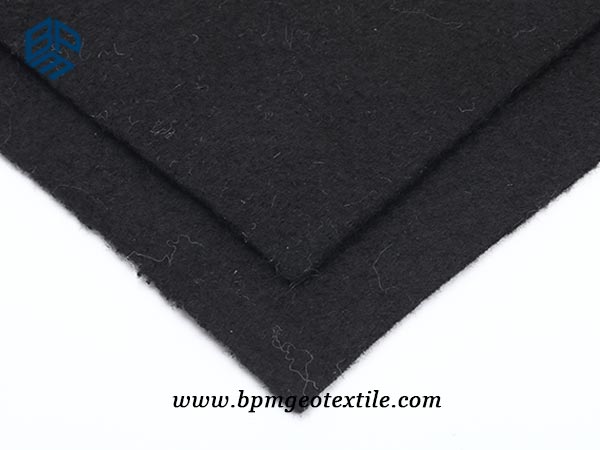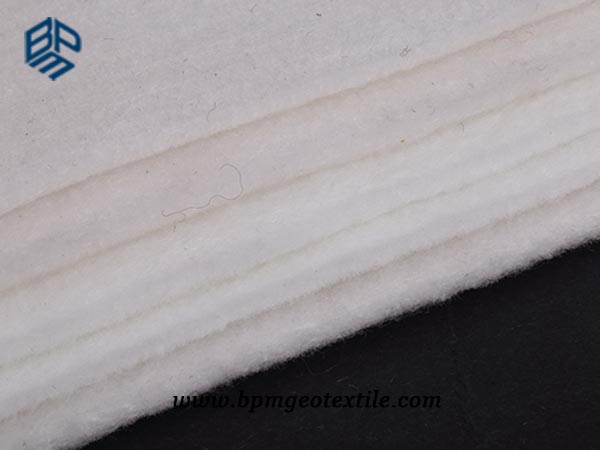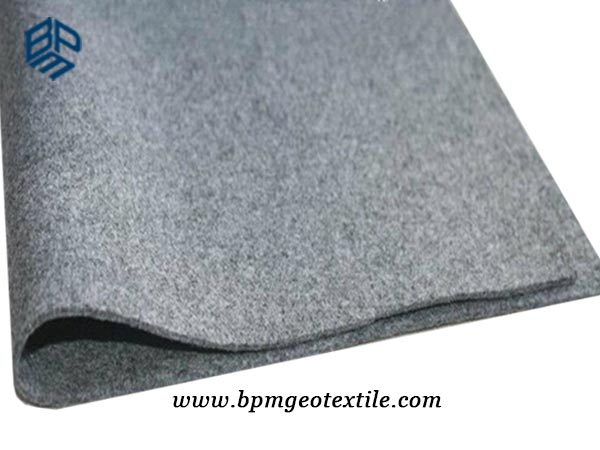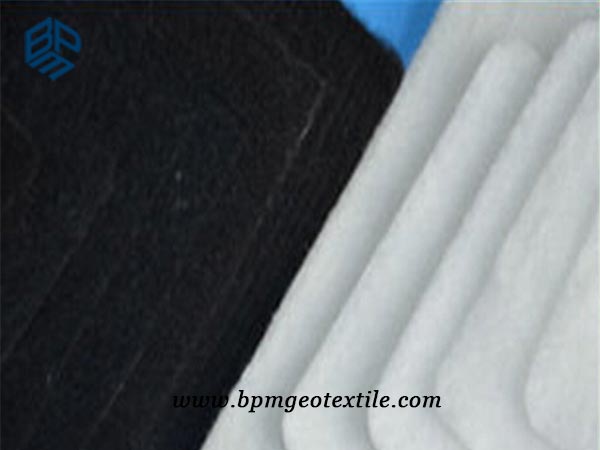 Specifications of Short Fiber Needled Punched Geotextile Fabric
Item
Unit
BPM10
BPM15
BPM20
BPM25
BPM30
BPM35
BPM40
BPM45
BPM50
BPM60
BPM80
Mechanical Properties (MD=Machine Direction Strength/CD=Cross Machine Direction Strength)
Weight
g/

m

2
100
 150
 200
 250
 300
 350
 400
450
500
600
800
 Weight Variation
 %
 -8
 -8
 -8
 -8
 -7
 -7
 -7
 -7
 -6
 -6
 -6
 Thickness
 mm
 0.9
 1.3
 1.7
 2.1
 2.4
 2.7
 3
 3.3
 3.6
 4.1
 5
 Width Variation
%
-0.5
 Break Strength 
(MD and XMD)
 kN/m
2.5
 4.5
 6.5
 8
 9.5
 11
 12.5
 14
 16
 19
 25
 Break Elongation
 %
  25-200
 CBR Burst Strength≥
 kN
0.3
 0.6
 0.9
 1.2
 1.5
 1.8
 2.1
 2.4
 2.7
 3.2
4
Hydraulic 
Properties
 Sieve Size O90
 mm
 0.07-0.02
 Permeability Coefficient
 cm/s
 (1.0-9.9)× (10-1 ~ 10-3)
Short Fiber Needled Punched Geotextile Fabric Features
High tensile strength

Excellent water permeability and drainage

Good filtration effect

High corrosion resistance

Good s

eparation, drainage, reinforcement, protection function
High flexibility
Resistant to acids and alkalis
Anti-oxidation

Best creep resistance

Easy construction
Short Fiber Needled Punched Geotextile Fabric Applications
I

mprove the slope stability and soil reinforcement.

Retaining and reinforcement wall backfill.

Strengthen weak road and fix the cracks on the road.

Isolation layer of artificial backfill soil stone foundation and different tundra.

Filtration layer of drainage pipe or gravel.

Vertical or horizontal drainage;

Bury in soil to release air pressure.

Reinforce the weak foundation of road, railway, embankment and airport, etc.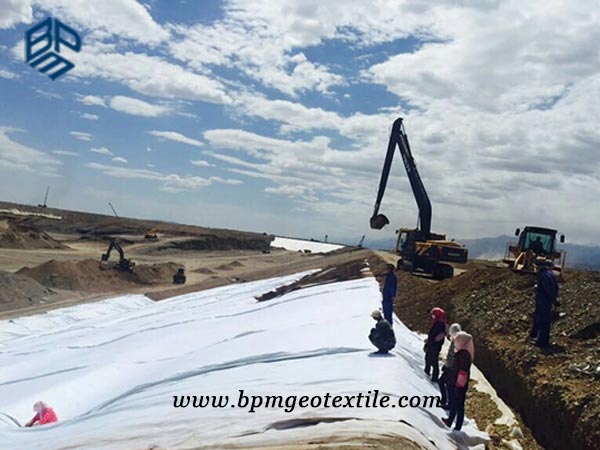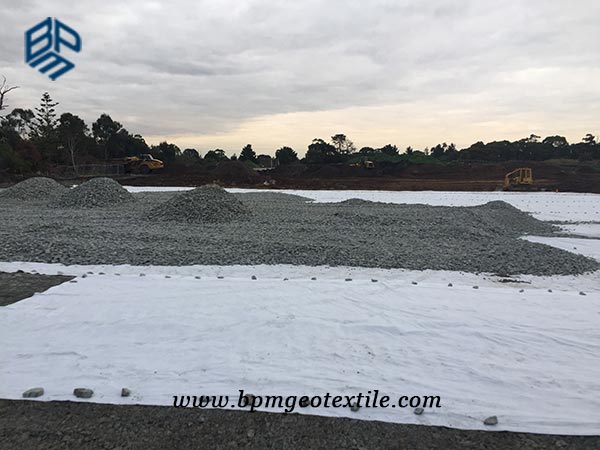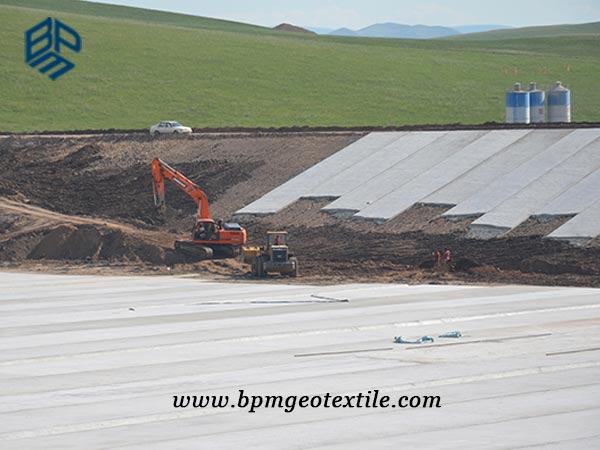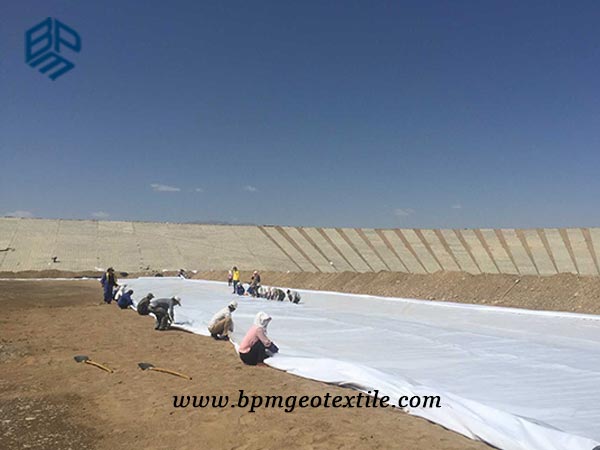 ABOUT BPM
BPM had been specialized in manufacturing and delivering one stop geotextiles and geosynthetics products and solutions to over 36 countries since its foundation in 2007. We are not only manufacturing best quality geotextile products but also providing professional fabrication and installation service. OEM and ODM are also available. If you have any questions or inquiries,  please fill and submit the following form, we will reply as soon as possible.