Geotextile membrane suppliers are those who produce and wholesale geotextile products such as filament non woven geotextile, short fiber needled punched geotextile, PP Woven geotextile fabric and pet woven geotextile, etc.  Geotextile is the permeable and durable geosynthetic material widely used to filter, separate, reinforce, protect, retain or drain soil for civil construction applications.
Geotextile can be produced by woven or non woven technology, weaving process or wet net forming process. The geotextile is the geosynthetic materials with the general width is 4-6 meters and the length is 50-100 meters. Due to the fiber material, the high quality geotextile produced by BPM can maintain sufficient strength not only in dry but also in wet conditions. As the the professional geotextile membrane suppliers, BPM geotextile products can bear corrosion for a long time in soil or water with different PH levels, which also has preferable water permeability with gaps between fibers. Furthermore, BPM brand geotextiles have many advantages such as good antimicrobial resistance, no damage to microorganisms and moths, etc al. Because this geotextile material is light and soft, it's important to noted that the geotextile is convenient for transportation, laying and construction. Our geotextile products have  complete specifications, finest quality, reasonable price, shorter delivery time, unit area quality from100 to 500g/m2 are available.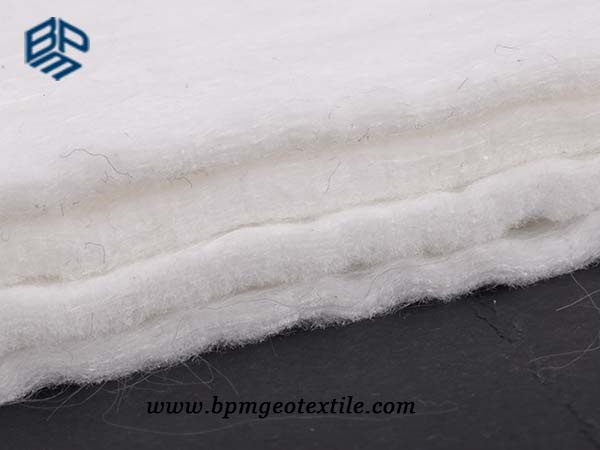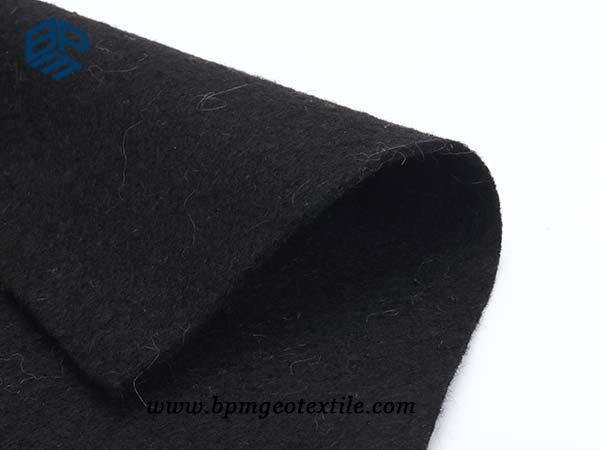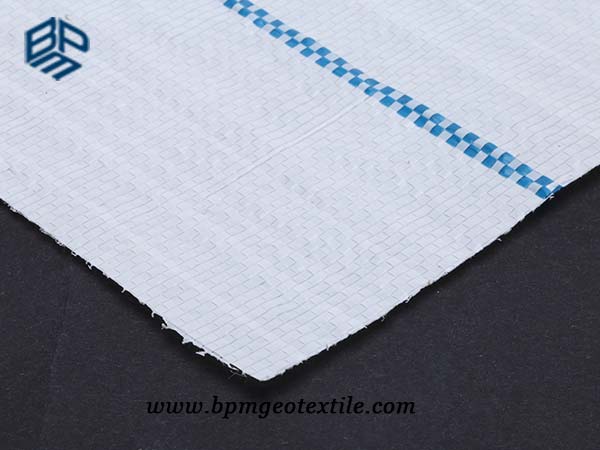 BPM brand geotextile products have the following characteristics.
1. Geotextiles can isolate soil layers which is composed of different components and properties and prevent mixing for a long-term. It has frost resistance and meet the construction conditions.
2. Excellent filter performance and corrosion resistance. Water can permeate in all directions and will not accumulate pressure. At the same time, it can prevent soil erosion, and is conducive to stability and corrosion resistance.
3. Reliable drainage performance. Because of its fluffy structure, it can effectively control the drainage of geotechnical engineering surface.
4. Good protection performance. Because of its good puncture, extensibility and fluffiness, it can effectively protect the waterproof layer from potential mechanical damage.
5. Reinforcement for embank or slope soil or vertical wall. Bulky and high strength can improve the overall project stability and its strength.
The application range of Geotextile which produced by BPM geotextile membrane suppliers.
1. Reinforcement in backfilling of retaining walls.
2.To reinforce the flexible pavement, repair the cracks on the road and prevent the pavement from reflecting cracks.
3.To increase the stability of gravel slope and reinforced soil, and prevent soil erosion or freeze damage of soil at low temperature.
4. Used as an isolating layer for artificial fill, rock-fill or material fields and foundations. It plays the role of isolation, filtration and reinforcement between different frozen soil layers.
5. Be used as filter layer around drainage pipe or surrounding rock drainage ditch.
6. Can be buried in soil to dissipated gap water pressure, and vertical or horizontal drainage.
7. To strengthen the soft foundation in Highway (including temporary roads) railway, embankment, airport and other projects.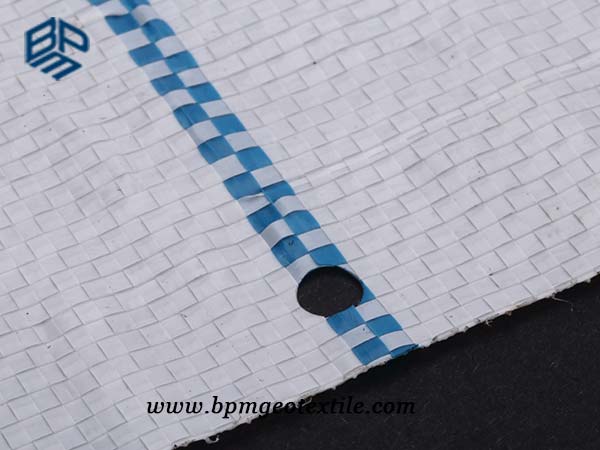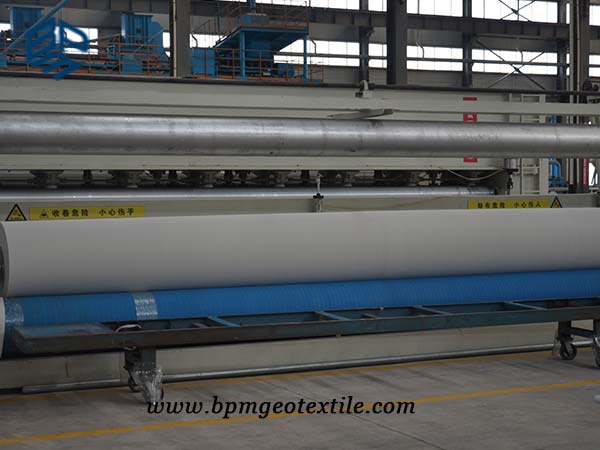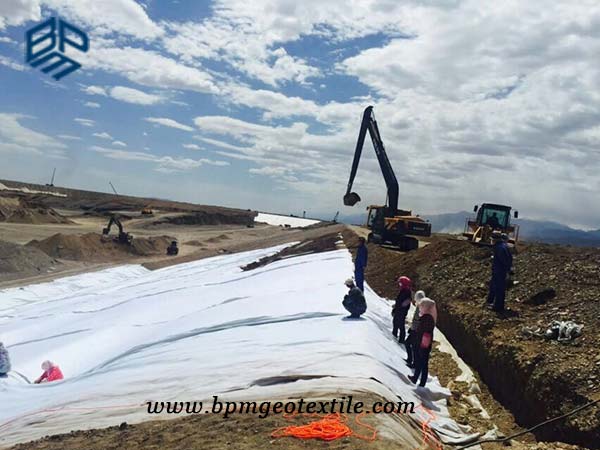 How to select geotextile membrane suppliers

?
Some of the following factors you should consider.
Real factory.

 

Real factory is the first factor you should consider when you select geotextile membrane suppliers as your long term partners. Real factory should have its own product development, production, quality assurance and installation team, geotexitle production line, geotextile production equipment. and testing equipment, certifications, etc al.

Product categories. The qualified geotextile membrane suppliers should have the complete series of geotextile products. Generally speaking, geotextile has four kinds of extensively used product such as filament non woven geotextile, short fiber needled punched non woven geotextile, PP Woven geotextile fabric and pet woven geotextile, etc. Different geotextile products can be used in corresponding projects.

Product quality.

 

Product quality is most important to secure your project in the long life span. BPM has strict quality management system to ensure its geotextile product to keep finest and uniform quality. We have standard industrial testing equipment to inspect our geotextile product quality in preset procedure. All BPM brand geotextiles had been certificated by the ISO9001, ISO14001, TUV, Soncap, SASO and BV certificates and passed the test of SGS and Intertek etc. 

Factory price. The geotextile membrane suppliers with its own factory can give you competitive factory price in controlled product quality and promised delivery time.

Certifications. ISO9001, ISO14001, OHSA18001 are the required certificates for all geotextile membrane suppliers. TUV, Soncap, SASO, BV, SGS and Intertek certificates should be passed for exporting. Firstly of all, the geotextile you purchased should follow your country's laws and regulations.

Successful cases. Geotextile successful cases witnessed the passed efforts and abilities of the geotextile membrane suppliers, you should try to visit them to verify you judgement. BPM had provided many types of effective and states of the art geotextile products to over 36 countries. We are not only manufacturing best quality geotextile products but also providing professional design and installation service. OEM and ODM are also available.

Installation and after sale service is also important when you need help.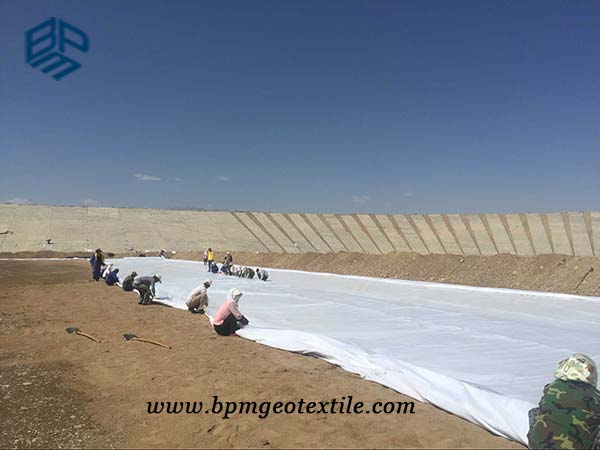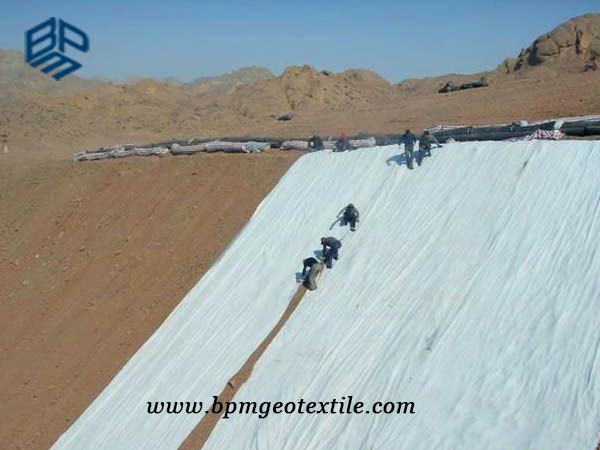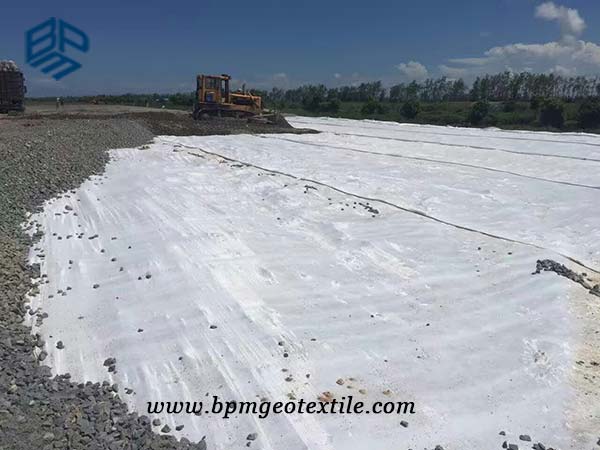 The Best Project Material Co., Ltd is a the professional geotextile membrane suppliers who manufacture and export geomembrane, geotextile and other geosynthetic product like geocell, geogrid, drainage boards and geosynthetic clay liner (GCL), etc, our geotextile factory is located in Taian City, the famous tourist city near the expressway from Beijing to Shanghai, Shandong Province, China.Our innovative, high quality geotextile products include Filament Non Woven Geotextile, Short Fiber Needled Punched Geotextile, PP Woven Geotextile Fabric and Pet Woven Geotextile, etc, which are sold to more than 20 provinces in China and exported to more than 36 foreign countries, they are widely applied in highway, railway, water conservancy, hydropower and other large infrastructure and greening projects, etc. Welcome to visit our factory.