Non woven geotextile membrane, also called nonwoven geotextile, is made with directionally or randomly orientated fibers, filaments or other elements by mechanically, thermally or chemically bonded process. Non woven geotextile membrane can offer optimum performance features including high elongation, high tensile strength, excellent permeability, durable CBR puncture resistance and stabilized UV resistence. BPM non woven geotextile membrane is available in varying strengths and thicknesses to ensure appropriate material selection for your requirements. Geotextiles allow filtration or separation of granular layers in roads and rail applications. Non woven geotextile membrane is widely used to protect membranes in landfill applications, used in coastal defence applications and used in landscaping to protect surfaces and structures from weeds and root growth.
One customer inquired us for the non woven geotextile fabric for their lead zinc ore protection and separation.Their project is situated  in Chifeng city, Inner Mongolia.They intended to use short fiber needle punched nonwoven geotextile fabric. But we introduced them to select polyester long fiber nonwoven geotextile fabric.
Inner Mongolia province is a situation with many geological hazards, such as desertation. So geotexitle elongation and lifespan should be the first factor to be concerned. Compared with staple fiber non woven geotextile, long fiber nonwoven geotextile fabric has longer elongation than short fiber ones.
Specifications of Non Woven Geotextile Membrane for Lead Zinc Ore Mine Pond
Non Woven Geotextile Membrane for Lead Zinc Ore

 

Mine Pond

Roll size:6m*100m

Quantity:400,000 square meters

Product Name

;

PET Filament Nonwoven Geotextile Fabric Rolls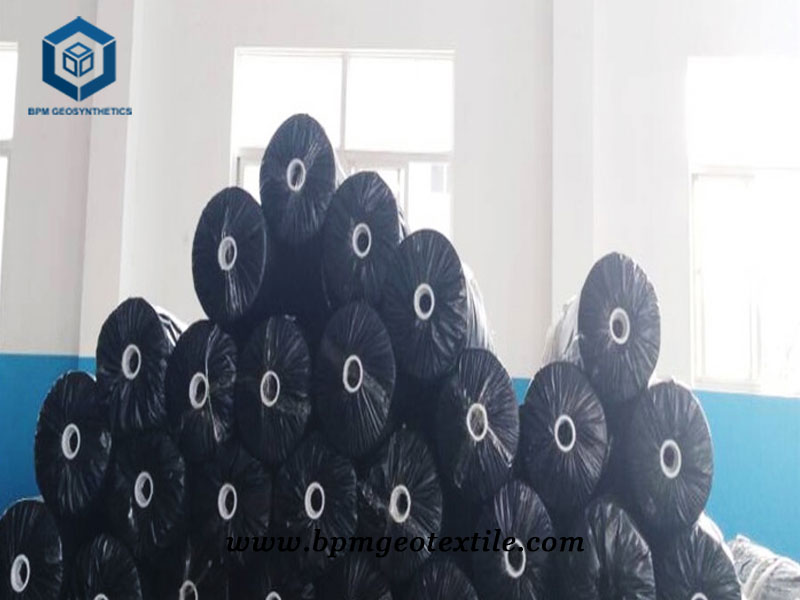 The long fiber non woven geotextile fabric is often used together with geomembrane, geonets or geocell as the geocomposites to be a solid and strict waterproof system to avoid the tailing waste to pollute around surroundings. It is often laid above the geomembrane to protect the geomembrane from improper handling. So the geotextile is often acted as the function separation and separation layer.
They bought about 200gsm in 200,000sqm of PET filament geotextile together with 200,000sqm of geomembrane from our company.
Below you find the general installation instructions for the geotextile fabrics. Installation requirements and methods may vary depending on the specifications/plans of your location.
STEP 1: Prepare the install area. Standard preparation involves a process of removing stumps, stones or sharp objects that may be able to penetrate the area. For roadways, vegetation, roots, weeds and topsoil may also need to be removed.
STEP 2: Smooth and level the location. If there is especially soft soil in the area, soil may need to be removed and/or replaced with a higher grade material.
STEP 3: Place the geotextile fabric in the installation area. Fabric should be laid out according to specific plans or site recommendations. Fabric should be stretched until it is as flat and as tight as possible. Each fabric should be overlapped according to site instructions. If no instructions exist, a minimum of 12'' to 18'' is recommended.
STEP 4: Secure the fabric with staples, pins, soil or other heavy materials. Fabric should be secured along the edges and then again on overlapping portions of material.
STEP 5: Place aggregate and/or other backfill on top of the fabric. Aggregate should be backfilled as required for your project. Aggregate lifts should be at least 6'' thick. Increased thickness may be required for softer subgrades.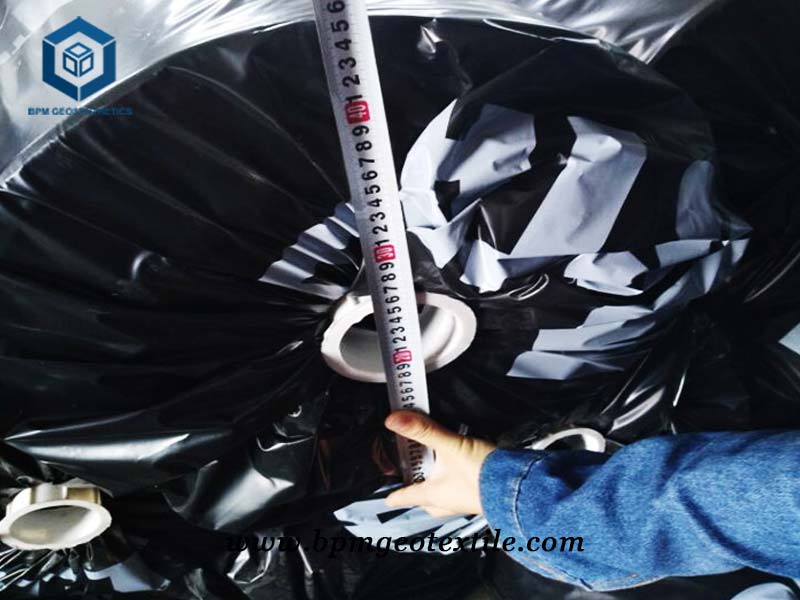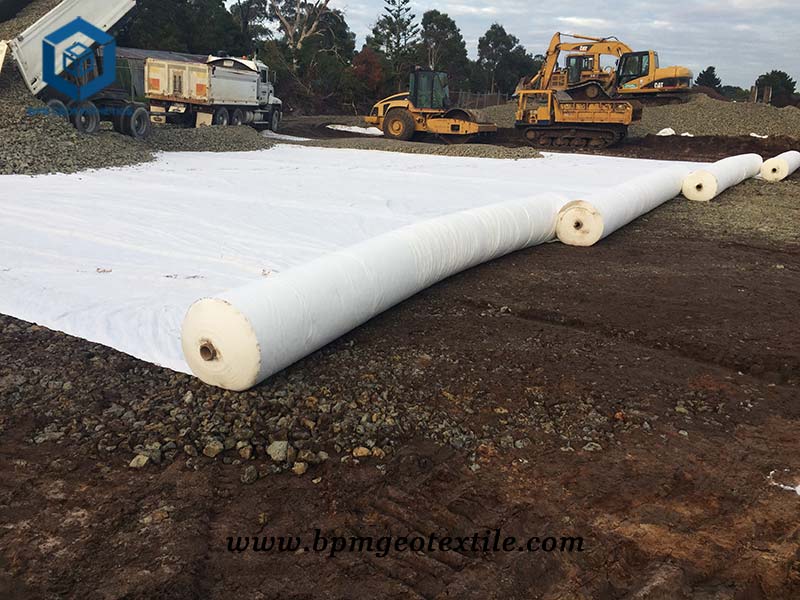 About BPM
BPM had provided many types of effective and states of the art geomembranes, geotextile and other geosynthetics to over 36 countries. Our main customers are from Australia, France, Sweden, UK, Hong Kong, Hungary, New Zealand, Poland, Mexico, Ecuador, Brazil, Pakistan, Bangladesh, Thailand, Vietnam, Malaysia, Indonesia, Singapore, Philippines, Sri Lanka, India, UAE, Saudi Arabia, Qatar, Kenya, Ghana, Ethiopia, Somalia, Nigeria, South Africa, Swaziland, Mongolia etc.
BPM is also providing professional design and installation service. OEM and ODM are also available. If you have any questions or inquiries,  please fill and submit the following form, we will reply as soon as possible.